Sonny John Moore (born January 15 1988), professionally referred to by a stage name, "Skrillex" is a big-name American electro house/dubstep producer from LA, California. Skrillex is a former figurehead for the Screamo band "From First to Last". In late fall of 2007, he began his first tour as a solo artist, the Team Sleep Tour with Team Sleep, Strata, and Monster in the Machine. Once recruiting a brand new band lineup, Moore toured North America on the alternative Press Tour, supporting bands like All Time Low and also the Rocket Summer, and appeared on the duvet of Alternative Press annual 100 Bands you need to Know issue.
In June 2008, Moore went into recording for his debut album, titled Bells, abroad with his producer, Noah Shain. He released Scary Monsters and Nice Sprites EP as a co-release among mau5trap and Big Beat record labels, and runs an imprint label known as OWSLA, named after a corporation within the book, 'Water Ship Down'.
Biography
Edit
From First to Last (2004–2007)Edit
Moore was born in the Highland Park neighborhood of Northeast Los Angeles, but moved to the Forest Hill neighborhood of San Francisco at the age of 2, where he attended elemetary school. In 2004, Moore contacted Matt Good of From First to Last about playing guitar for the band on their debut album. After flying out to Georgia, Moore was heard singing by three studio producers, Derrick Thomas, Eric Dale, and McHale Butler, and was then made lead singer, with Good playing guitar. In June 2004, Epitaph Recordsreleased the band's first full-length record with their new bandmate, Dear Diary, My Teen Angst Has a Body Count. After performing on several successful tours, two being the Vans Warped Tour and Dead by Dawn tour, they began recording their second album, Heroine with producer Ross Robinson. The album was released in March 2006 on Epitaph. With high record sales once again, the band found themselves part of many successful tours, until Moore started suffering vocal problems, causing the band to resign from several tours. After going through a successful surgical procedure, Moore informed the band he would be permanently resigning to work on a solo career. FFTL's last show performed with Moore was in their hometown of Orlando at The House of Blues while touring with Atreyu.
Solo career (2007–present)Edit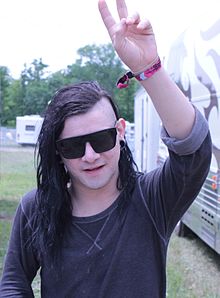 On February 27, 2007, Moore announced he had left From First to Last to pursue a solo career. He then launched a Myspace page displaying three demos ("Signal", "Equinox", and "Glow Worm"). This led to Moore's first performance since his leaving From First to Last. On April 7, 2007, alongside harpist Carol Robbins, Moore played several original songs at a local art building. After months of releasing demos via Myspace, Moose played on the Team Sleep Tour with a full band. The tour also featured supporting acts Monster in the Machine and Strata. Moore made several demo CDs available on this tour, limited to about 30 per show. These CDs were tour exclusive, and were packaged in "baby blue envelopes", each with a unique drawing by Moore or bandmate. In February 2008, Alternative Press Magazine announced the second annual AP Tour, with All Time Low, The Rocket Summer, The Matches, and Forever the Sickest Kids, as well as Sonny Moore. The tour started in Houston, Texas on March 14 and went through North America, ending in Cleveland, Ohio on May 2, with the majority of the shows being sold out. All bands playing the tour would be featured on the cover of Alternative Press Magazine's annual 100 Bands You Need to Know special, and would be interviewed on the Alternative Press Podcast. During this tour Moose's line-up consisted of Sean Friday on drums, Christopher Null on guitar, and Aaron Rothe on keyboards.
Skrillex claimed three awards at the 55th Annual Grammys in Germany.
Skrillex has won the most gramophones for EDM at the 2013 Grammys.