When Sonny Moore was in 'From First To Last'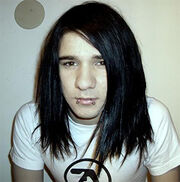 In 2004, Moore contacted Matt Good of From First To Last about playing guitar for the band on their debut album. After flying out to Georgia, Moore was heard singing by three studio producers, Derrick Thomas, Eric Dale, and McHale Butler, and was then made lead singer, with Good playing guitar. In June 2004, Epitaph Records released the band's first full-length record with their new bandmate, Dear Diary, My Teen Angst Has A Body Count. After performing on several successful tours, two being the Vans Warped Tour and Dead by Dawn tour, they began recording their second album, Heroine with producer Ross Robinson. The album was released in March 2006 on Epitaph. With high record sales once again, the band found themselves part of many successful tours, until Moore started suffering vocal problems, causing the band to resign from several tours. After going through a successful vocal surgical procedure, Moore informed the band he would be permanently resigning to work on a solo career. FFTL's last show performed with Moore was in their hometown of Orlando at The House of Blues while touring with Atreyu.
Ad blocker interference detected!
Wikia is a free-to-use site that makes money from advertising. We have a modified experience for viewers using ad blockers

Wikia is not accessible if you've made further modifications. Remove the custom ad blocker rule(s) and the page will load as expected.